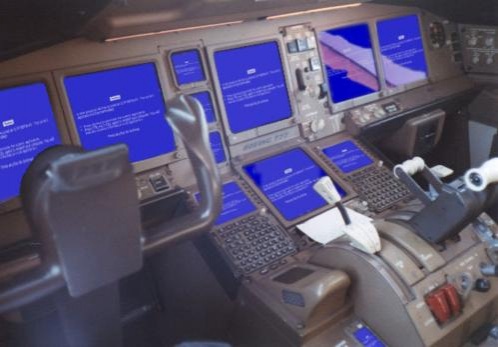 Blue Screen of Death (BSOD) has a whole new meaning...
Back in 1999, I had given up on Windows. It had crashed on me one too many times, the hideous "blue screen of death." I had been playing with a dual-boot system with
Debian
GNU
Linux
and Windows 98, but the "burn it to the ground and re-install" cycle with Windows had left me distraught and down-trodden. That fateful Winter night, I had wiped Windows from the hard drive completely.
Linux had many challenges in 1999, not the least of which was printing. In general, if you wanted to print from Linux, you had to make certain you had a supported printer or a network-enabled Postcript printer. I happened to be using an unsupported
HP Deskjet 722C
, an inkjet printer that used a proprietary protocol over a parallel port cable. After a bit of searching, I found a filter application for
Ghostscript
called
pnm2ppa
. It was a hack, a crack of the protocol that enabled me to print
in color
to the relatively expensive printer I was in no hurry to replace.
Over the years, that printer has moved with me from apartments to houses, and it has performed with reliable quality. Regardless, I had always wanted to pick up a copier/scanner/printer model, or at least pick up a copier/scanner. Whenever I asked Meghan about it, she would "poo poo" the idea. What we had worked just fine, plus I knew that buying any hardware that I intended to use with Linux would require some research to ensure it would perform.
At some point, I must have mentioned it to my mom in conversation. She squirreled that fact away and later produced an awesome and unexpected Christmas present: an
Epson Stylus NX420
, an all-in-one inkjet printer! I brought it home excited and unsure, but optimistic. At worst, I could use Meghan's Mac Mini as a printer server, and at best, I might get lucky.

In the last few years, there have been a couple of very important changes in printer technology in the *NIX world. The fist is the advent of the
Common Unix Printing System (CUPS)
, a new print server software. It made setting up printers and sharing them on the network quite easy. The second most important thing that happened was the adoption of the CUPS software by
Apple
for its new OS 10 platform. With a popular hardware and operating system vendor championing the product, the printer vendors started supporting *NIX through proxy of Apple!
I shouldn't have been surprised when five minutes into researching driver options for the printer, I was able to find this gem:
All-in-Ones (Multifunction Inkjet Printers) | AVASYS CORPORATION
. This company provides not only the printer drivers for Windows and Macintosh, but also provides Debian and Red Hat packages! The scanner as well was supported by another set of packages!
What blows me away about this is that my mom, who is not a very technical person by any means, had simply picked a printer off the shelf that she thought was a good value. Not only did it turn out to be good, but excellent! Thank you Mom and Dad!